EVENTS
Member Log In
Access our library of articles, videos and proceedings for members only.
2018 Pacific Rim Conference
28 July 2018 - 4 August 2018
The Western Region is delighted to invite our fellow IPPS members and friends from other IPPS regions to join us in Hawaii for a Pacific Rim Conference in 2018. We have been able to secure excellent room rates, interesting speakers and many wonderful tour locations. A three-night, two-day pre-conference tour will begin with a reception on Saturday, July 28 at Ala Moana Hotel in Honolulu. Enjoy all-day tours on Oahu Sunday and Monday, and a free day on Tuesday to relax on Waikiki and fly on to Kona on the Big Island. We will kick off the conference with a reception and registration at the Courtyard King Kamehameha Kona Beach Hotel (our conference) in the Kona Village (our conference hotel) on Tuesday evening.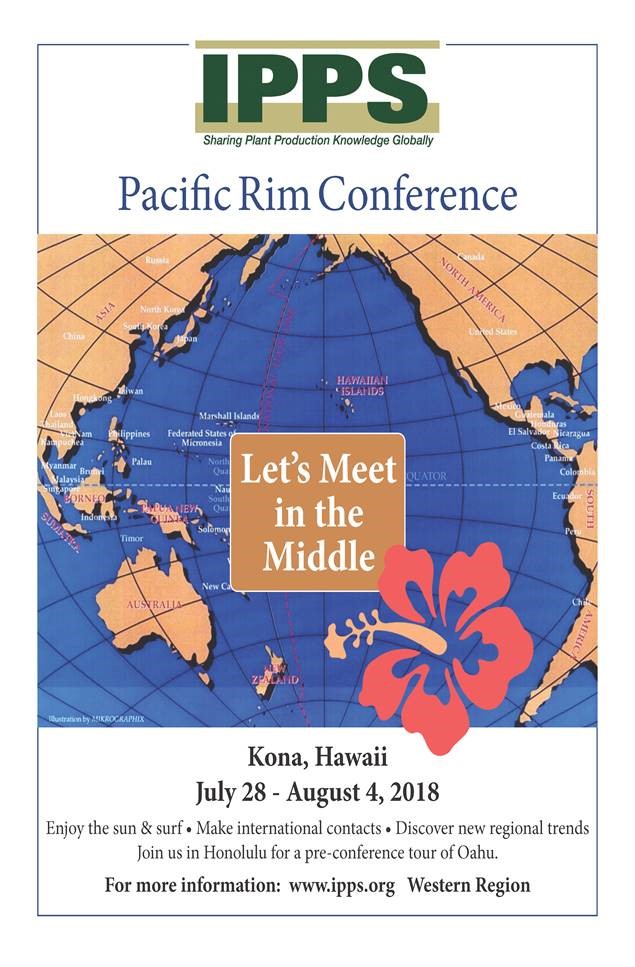 The pre-conference tour is scheduled to include the following stops. To download a color brochure showing highlights of the pre-conference tour, CLICK HERE.

National Memorial Cemetery of the Pacific(Punchbowl)
Foster Botanical Garden (Honolulu Botanical Gardens)
University of Hawaii Research Facilities (anthurium and orchid breeding; native plants as ornamentals)
Hibiscus Lady Nursery with Jill Coryell (hibiscus breeder)
Waimea Arboretum and Botanical Garden with David Orr
Hui Ku Maoli Ola Native Plant Nursery
The conference will include four special focus areas:
Regional Trends and Trade

Native Plant Propagation (with a technical focus that includes Hawaiian natives)
Propagation of Edibles (including tropical fruit)
Micropropagation (including floral crop production)

Some of the scheduled speakers at the conference include:
Greg McPhee, Horticultural Communications Pty. Ltd., Australia (edible flowers)
David Cliffe, Narromine Transplants, Australia (native plant production)
Valerie Sikkema, Van Belle Nursery, Inc., Canada (North America export permitting)
Julienne Zhu, Nursery Stock Branch of the China Flower Association, China
Ian Duncalf, Plant Struck Ltd., New Zealand
Chad Davis, Gardens by the Bay, Singapore
Dr. Virendra M. Verma, Micronesia Plant Propagation Research Center, Micronesia
Ethan Romanchak, Native Nursery, LLC (Hawaiian native plant production)
Nellie Sugii and Dr. Marian Chau, Harold L. Lyon Arboretum-University of Hawaii at Manoa (Hawaiian Rare Plant Program)
Dr. Noa Lincoln, University of Hawaii at Manoa
Dr. Peter Boches, USDA-ARS, Daniel K. Inouye U.S. Pacific Basin Agricultural Research Center, Tropical Plant Genetic Resources and Disease Research Unit, Hilo, Hawaii
For a preview of the IPPS-WR annual meeting program, CLICK HERE.
Our conference hotel is the Courtyard King Kamehameha Kona Beach Hotel in the Kona Village.
Be sure to mark your calendars for this special Pacific Rim Conference! More details will be forthcoming.
Questions about the Pacific Rim Conference? Contact Todd Jones at toddjones57@hotmail.com.
---