Richard E. Bir
International Award of Honor, 2007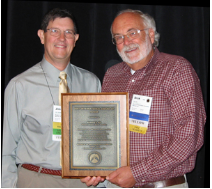 Richard E. "Dick" Bir, of Brevard, North Carolina, received the IPPS International Award of Honor in 2007. The award was presented in Denver, Colorado during the join annual meeting of the Eastern and the Western Regions of IPPS in September. The award recognizes individuals who have given exceptional and distinguished service to IPPS and achieved outstanding accomplishments in the field of plant propagation. Bir stated he was "honored beyond my capacity to express in words" by the award.
Bir was nominated for his accomplishments in the field of horticulture and his willingness and desire to share his knowledge with others. His thousands of presentations, workshops, and articles have been a valuable resource to all in the horticultural community, from homeowners, to nurserymen to landscapers to academics.
Bir has presented papers and posters at regional IPPS meetings and served tirelessly on numerous different committees over the years since joining the Society in 1985. He served on the Eastern Region Board of Directors from 1996-1998 and as an officer from 2000-2003. He was named a Fellow of the IPPS Eastern Region in 1995 and was given the region's highest award, the Award of Merit, in 2000.
For 25 years, Dick Bir was Extension Nursery Specialist with the Department of Horticultural Science at North Carolina State University. For seven years before moving to the mountains and NC State, he worked as a Horticultural Extension Agent for the University of Florida despite having been born, raised and formally educated in the northeastern US. In both jobs, he devoted himself to helping the nursery and landscape industries find better ways to grow plants as well as promoting conservation interests.
Bir published hundreds of articles, many of which discussed his often practical research. He published in areas of plant propagation, soils and media, plant nutrition, winter protection, plant pathology, climate response, and cultivar/species trials in publications such as HortTechnology, American Nurserymen, NMPRO, Fine Gardening, American Gardener, Horticulture, and Carolina Gardener. He presented hundreds of invited lectures across the US and beyond as well as served as a leader in the horticultural world. Dick's research was frequently conducted in collaboration with those in diverse disciplines, bringing their expertise to assist the nursery industry.
Bir was instrumental in the development of the Cullowhee Native Plant Conference which started in 1984, held annually in Cullowhee, North Carolina. Another major contribution to the promotion of native plants was Dir's book, Growing and Propagating Showy Native Woody Plants (UNC Press, 1992). This publication addressed the pressing need for native plant production information.
Bir's awards are numerous. Among the most meaningful awards to him are those from IPPS, the North Carolina Association of Nurserymen, Southern Nursery Association, American Nursery and Landscape Association, and the Scott Award from Swarthmore College. Since his retirement from NC State University in 2004, he has continued to lecture, write and consult. He is a regular attendee at the Eastern Region annual meetings. Dick Bir's career has exemplified the IPPS motto of "to seek and to share", earning him a place of respect among fellow IPPS members and his industry peers.