Thomas Edward "Eddie" Welsh
International Award of Honor, 2008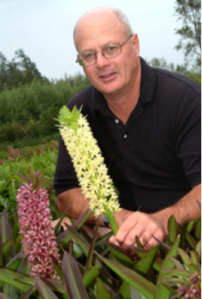 Thomas Edward Welsh, best known in IPPS as Eddie Welsh, received the 2008 International Award at the May 2008 meeting of the New Zealand Region in Auckland, New Zealand. The award recognizes individuals who have given exceptional and distinguished service to IPPS and who have achieved outstanding accomplishments in the field of plant propagation.

Eddie is the owner/operator of a nursery just outside Palmerston North, known as Start Plants. He and his wife, Jan, have focused on growing open ground plants for the New Zealand market and for export. The business allowed him to propagate and sell a variety of specimen plants known best in Japan for introduction to New Zealand as well as for export to the US and Japan. Eddie was also a pioneer in bringing exotic crops back to New Zealand, and he has become a world leader in propagation of the exciting tropical plant, Eucomis. His nursery also produces eco-sourced natives for revegetation projects.
Eddie came to New Zealand in the mid-1970s, enrolling in Massey University and marrying his wife, Jan, with help from his mentor, Murray Richards, a well-known leader in the New Zealand nursery industry. In 1980, he was appointed to a faculty position at Massey University and quickly became well-known for his knowledge, practical nature, and friendly personality, gaining respect and fond memories from his students over the next 18 years.

While at Massey, Eddie's interest in bedding plants and his need to engage his students in practical application of their horticultural knowledge led him to develop the Massey University bedding plant trials. These trials became an annual event, drawing growers from all over the country to see new varieties and how they performed in in-ground trials, and the trial grounds were an important tool for the industry.
Eddie was exposed to IPPS and attended his first conference in New Zealand in 1980. He assisted in his first IPPS field trip in Palmerston North in 1981, organizing not only the visits but the evening meal, indulging a favorite interest of his and Jan's - the preparation of wholesome foods from the bounty of the land. In the 1981, Eddie was elected to the New Zealand Executive Committee and gave service through many position, including two years as President in 1986/1987 and 1987/1988. He was named to represent New Zealand on the International Board of Directors, serving as Alternate Director, Director, and eventually International President of the Society in 1994. The New Zealand Region honored Eddie with its Award of Merit in 1995.
During the late 1980s, the IPPS Japan Region was forming and Eddie traveled often to Japan, making many friends, hosting many students and horticultural tour groups back in New Zealand. He arranged a number of international exchanges for his students with Japanese, Thai, and Philippine nursery people. His contact with those countries later opened doors for his business ventures.
In 2005, Eddie was diagnosed with pancreatic cancer, a shock to him, his family, and the New Zealand industry. However, despite poor health, Eddie remained positive and persistent in his treatments and has made a remarkable recovery. He continues to serve as a guiding light for young people, as well as for his colleagues in IPPS and the nursery industry. His genuine caring for plants and people, and undaunted passion to learn, help, and inspire led to his nomination for the 2008 International Award of Honor.