Thank you Alan Jones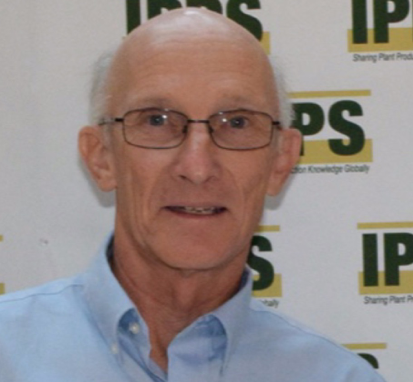 Alan Jones: International Board Chairman, 2016 - 2019.
Thank you Alan for the great work you have done as chairman of the IPPS International Board over the past four years!
Alan has served on the IPPS International Board for 12 years and as chairman of the board for the past four years. He'll retire from the International Board this year. As part of the International Board, he was recently invited to speak at conferences in China and India promoting the formation of new IPPS regions.
Born in London and fond of using quotes from the legendary prime minister Winston Churchill, Alan Jones is a quintessentially British plantsman.
After he graduated from Pershore College of Horticulture, Alan went to work for Oakover Nurseries in Ashford, Kent. Tom Wood, Oakover's owner, introduced Alan to The International Plant Propagators' Society in 1979.
From a young age, Alan has been keen to get involved with industry associations. He learned useful skills and forged connections that helped him when he was just beginning his journey. And like those before him, Alan has taken up leadership roles and helped others along their paths.
In 1984, Alan emigrated to the U.S. and went to work for Princeton Nurseries.
After 10 years at Princeton, Alan left in 1994 to join Manor View Farm in Monkton, Maryland. The 100-acre nursery grows a wide range of finished B&B trees and shrubs, and propagates a wide selection of potted shrub liners for sale to growers.
Alan has joined regional, national and international associations, including the Maryland Nursery, Landscape & Greenhouse Association, on which he served on the legislative committee. The MNLGA presented him with its Professional Achievement Award in 2014. At the national level, he served in several capacities for the American Nursery and Landscape Association, which was the precursor to AmericanHort. He served on the ANLA Standards Committee, as ANLA Senate representative for Maryland and a contributor to the ANLA New Ideas Session. He's currently a board member for the Horticultural Research Institute.
Alan is a very active member of the International Plant Propagators' Society's Eastern Region. He has served on the board of directors and served as president in 2002. In 2000 he was elected a Fellow of IPPS — Eastern Region and received the organization's highest honor, the Award of Merit, from Eastern Region IPPS in 2011.
The IPPS motto is 'to seek and to share,' and its members' willingness to do just that is unique to the horticulture industry.
"I don't know many industries where your major competitor can be one of your best friends," Alan says. "There's not many industries that will share information about what you do and how you do it."
Alan's time with IPPS provided him with unique opportunities. He suggests any young nursery professional should ask lots of questions and travel as much as possible.
"Meeting nursery people from around the world certainly influences your thought process and your views of the industry, because you have a wider perspective of how the industry works," he says.
"If you're passionate about what you do every day, life is much more enjoyable," Alan says.
Extract from an article published by Nursery Management. Read full article here: https://bit.ly/2RSAlvN