2015 International Award of Honour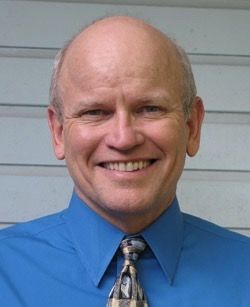 Congratulations Fred Davies!
Personal and Professional Background
Fred T. Davies grew up in central New Jersey, working on potato farms in the summer as a teenager, but never considered Horticulture as a career opportunity. After receiving a BA from Rutgers College (1971), he hitch-hiked and backpacked around the world for a year with his best friend, who happened to be a horticulturist—Jaime Lazarte. Their travel focused on agriculture, and he got hooked on the international niche opportunities of Horticulture in producing high-end value crops for exportation. With globalization, the niche opportunities for high-value horticultural crops are as strong as ever! Davies later received a MS in Horticulture (Rutgers University, 1975) and PhD in Horticulture and Plant Physiology with a specialization in Tropical Agriculture (University of Florida, 1978).
At Texas A&M University he has had teaching–research appointments as an Assistant Professor, Dept of Horticultural Sciences & Faculty of Plant Physiology (1979–83); Associate Professor (1984–90), and Professor & Faculty of Molecular and Environmental Plant Sciences (1990–present). He has also been a Visiting Scientist, USDA Horticultural Crops Research Laboratory, Visiting Associate Professor, Oregon State University (1987); Visiting Professor, Monterrey Tech University (ITESM) Queretaro, Mexico, and Visiting Scientist, CINVESTAV Plant Biology Institute, Irapuato, Mexico (1993–94); Visiting Professor, National Agrarian University (UNALM), Lima, Peru, and Visiting Scientist, International Potato Center (CIP), Peru (1999–2000).
He teaches courses in plant propagation and nursery production and management. NASA, NSF, USDA, J.S. Guggenheim Foundation, USIA Senior Fulbright Program, HRI, industry support, and other endowments have supported his research. He has given 139 invited presentations, including international conferences in Mexico, Peru, Guatemala, India, Israel, France, Ghana, Spain, Italy, China, and Canada. Publications include: 90 refereed journal articles, 18 books/teaching manuals, 71 non-refereed journal articles, 39 symposia proceedings. He has advised 12 Masters and 13 PhD students. He has taken three sabbaticals: USDA Horticultural Crops Lab., and internationally in Mexico and Peru. He is currently serving as a Jefferson Science Fellow assisting the U. S. government with foreign policy in Washington, DC.
Fred is active with industry groups, especially, IPPS-SR, having served as President in 1986-87, as International Delegate, and currently as Editor. Fred duties with IPPS-SR extend beyond being the editor of the annual conference papers. He is always the voice of reason, respect and calm on the Executive Committee. He completes the meeting minutes quickly and thoroughly.
Davies has been an ASHS member since 1975. He has served ASHS in many capacities, including Chair, ASHS- Certified Horticulturist (ASHS-CH) Committee (2005–present) to professionalize Horticulture by developing a national certification program in Horticulture for the practitioner. He has served on the Task Force–Future of Horticulture, (2004–07); Fellows Screening Committee (2005–07); Vice President of the International Division and ASHS Board of Directors member (2001–03), instituted ASHS International Colleague Affiliate Membership program to facilitate scientists in developing world accessing electronic ASHS publications.
Davies has been a J.S Guggenheim Fellow (1999); Fulbright Senior Fellow to Mexico (1993) and Peru (1999); Co-author of last 4 editions of Hartmann & Kester's Plant Propagation—Principles and Practices [Hartman, Kester, Davies, Geneve] (1990, 1997, 2002, 2011); Regents Professor (2010), Texas AgriLife Research Faculty Fellow (2007); Fellow of ASHS (2003); Fellow of the International Plant Propagators' Society (2006); received the Distinguished Achievement Award for Nursery Crops from the ASHS (1989)—2nd recipient to receive award; L.M. Ware Distinguished Research Award, ASHS-SR (1995); S.B. Meadows Award of Merit - IPPS-SR (1994); Association of Former Students Distinguished Achievement Award for Teaching–TAMU (1997); Chancellor of Agriculture's Award in Excellence in Undergraduate Teaching–TAMU (1998); L.M. Ware Distinguished Teaching Award, ASHS-SR (1998); L.C. Chadwick Educator's Award, American Nursery and Landscape Association (1999); Norman Jay Coleman Research Award, ANLA (2003); President (1987) and currently Editor & Board of Directors member IPPS-SR (1994–present); gave the Plenary address—50th Anniversary Canadian Society Plant Physiologists (2008).
He and his wife, Maritza, have two daughters: Alexandra and Katerina.