2016 International Award of Honour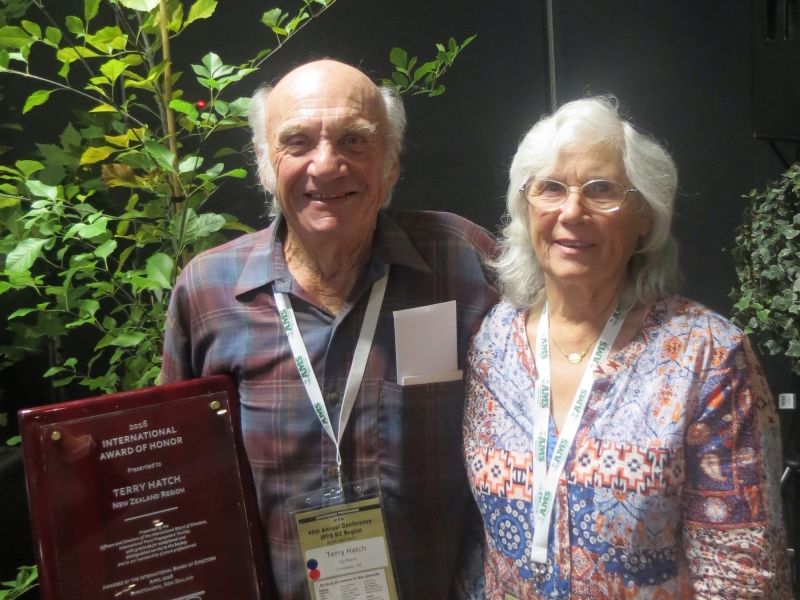 Congratulations Terry Hatch!
Terry Hatch is the 2016 recipient of this prestigious award which is presented by the International Board with gratitude to acknowledge exceptional and distinguished service to the Society and its members.
Terry is a true legend and a model member of the Society. He has contributed significantly to the running of the New Zealand Region and the International Society as a whole. He has shared his considerable plant knowledge with all members through hands on demonstrations, talks and one on one relationships. He was made a "Life Member" of the New Zealand region in 2013. He has followed our moto of "Seeking and Sharing" to the max over almost half a century. His influence on both our society and our plant industry has been colossal and his plants and his knowledge have been shared with others around the world. He remains the most modest and generous plants person you could hope to meet.
Terry was a founding member of the New Zealand region and attended his first meeting in 1971. He has continued to be an active member of the New Zealand region for the last 44 years.
In his 44 years with the IPPS, Terry has achieved many great things in the world of plant propagation. As a breeder he has bred and selected plants which include many New Zealand natives, bulbs, and exotic species. Examples include Helleborus orientalis Joy Bouquet, a series of free flowering and colourful hellebores. Sophora Dragon's Gold a compact and free flowering form of the New Zealand native Kowhai. Phormium Chocolate Cookie a compact and dark form of our flax. Plus he has generated numerous forms and hybrids of Nerine, Eucomis, Clivia, and Iris. He introduced the South African Restios to New Zealand and he has made numerous selections and forms of our native plants including Libertia and Carex and many, many other species. He has shown us new and novel ways of propagating both cuttings and seeds, and he simplified and demystified the weaning of plants from tissue culture.
Terri has been involved in all levels of the society. From committee member, to regional president and in late 2007/2008 he held the position of International President. He has been involved in the organisation of numerous field trips, conferences and tours. In short he has been a stalwart within our region of the society contributing at local and national levels and with a stint on the international board.
Terri has promoted the IPPS throughout his long working career by always participating in a full range of activities within the society. He has done numerous "propagation" demonstrations and promotions at industry events, garden shows and farming field days. He is an icon amongst the New Zealand gardening public, having been featured in numerous articles and television shows. He has always expounded the virtues of the society and has been more than generous with his knowledge, experience and time. He has helped greatly with hosting and providing hands on experience with many of the regions exchange students from Japan and elsewhere. He was a very influential part of the New Zealand team that mounted a gold medal winning display at the Chelsea Flower Show, and he has been a participant, advisor and judge at New Zealands' Ellerslie Flower Show. He is a very long standing Friend of the Auckland Botanic Gardens and is held in very high regard by the gardening and botanical communities here in New Zealand.