2016 NZ International Tour Highlights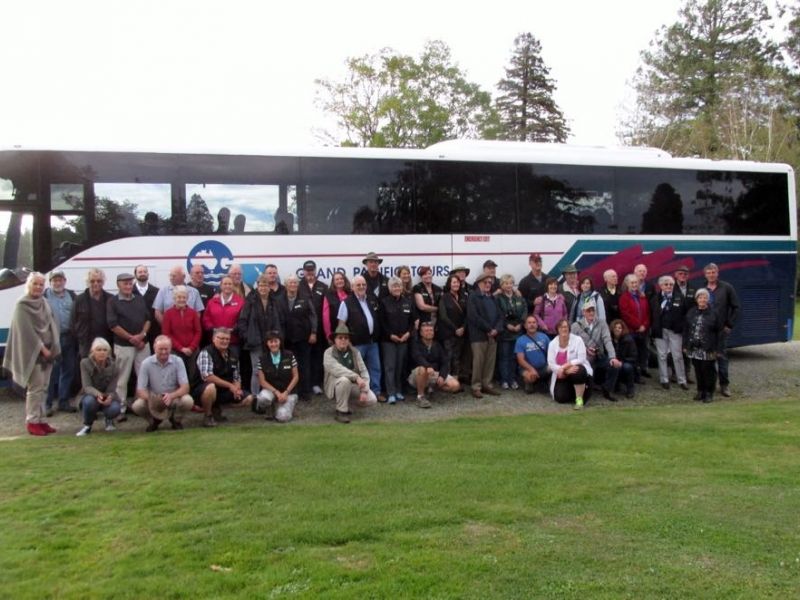 The Fantastic 2016 New Zealand International Tour
Pre-Conference Tour Highlights
by Janine Smith
The New Zealand Region recently hosted this year's International Tour & Conference with the focus for the Pre-Conference Tour being on the "scenic" southern region. The tour included visits to nurseries, gardens and nurserymen of note along the way, as well as the iconic tourist destinations that the region has to offer.
The Long Tour departed Christchurch on the morning of April 11th with 37 delegates, hailing from the Eastern, Southern, Western, Australian, South African, Japanese and New Zealand regions with the Short Tour beginning in Queenstown on April 17th, where we were joined by 13 more delegates hailing from Australia, UK (Europe) and China. It was pleasing to see that all regions were represented on the Pre- Conference Tour.
Day one
The tour started with a visit to Trent's Nursery, situated on the outskirts of Christchurch. It is an established Wholesale Nursery that specializes in perennials and is the largest Flower Carpet producer in the Southern Hemisphere. It was then on to Lushingtons Garden Centre in Ashburton, which is an award winning Garden Centre having been judged the "Best Garden Centre in the South Island". They grow up to 40% of their shrubs on a separate site in order to give them a point of difference to their competitors, but buy in all "colour" and perishables.
Headford Propagators, near Oamaru was our next stop. It is owned by IPPS members Grant & Robynne Hayman. They supply growing-on lines and re-vegetation lines to the wholesale and landscape markets. A point of difference for them is that they also run their own specialist plant freight service, which is now used by many growers nationwide. We were welcomed onto their nursery with a traditional Maori "Powhiri", performed by local Maori, where all the International Tour delegates received a piece of Pounamu (Jade), we were then treated to a traditional Maori "Hangi" for lunch – this is where the food is steamed in the ground. After lunch we headed to Knottingley Park in Waimate (near Oamaru). Knottingley is a large Park and Reserve notable for its plantations of exotic trees. Our first day came to a close in Oamaru watching the world's smallest penguins (the Little Blue) come ashore at dusk, surfing in on the waves in groups known as "rafts".
Day two
Blueskin Nursery, just north of Dunedin, was our first nursery visit on day 2. Owned by IPPS members Mark & Clare Brown, their goal is to grow, produce and sell according to sustainable principles with a minimal environmental footprint, with their garden centre & cafe being one of the most sustainable operations in New Zealand. Their Garden Centre was named Best New Zealand Garden Centre 2008-2009 and they were Supreme award winners at the Ellerslie Flower Show in 2014. After a short and very scenic trip up over the "hill" into Dunedin we arrived at The Dunedin Botanic Gardens. These gardens are New Zealand's first botanic garden having been established in 1863 and in 2010 the gardens were recognised as being a Garden of International Significance. We were met by IPPS member Alice Lloyd-Fitt, who along with some of her staff, showed us through their very new "state of the art" production facility and greenhouses as well as the New Zealand Native Plant Collection. I am sure there were quite a few rather envious nurserymen as we walked through the facility! The Dunedin Chinese Garden was our next stop for the day. It is an authentic example of a late Ming / early Ching Dynasty Scholars Garden and its design is based on gardens of the Jiangnan area. It is meant to lead you on a journey of understanding of culture, heritage & history. Day 2 ended at the Speights Brewhouse for an in-depth tour before dinner and sampling!
Day three
Day 3 was spent exploring the Otago Peninsula with visits to two quite different gardens. The first was Larnach Castle Gardens. This garden has been rated as being a Garden of International Significance and it is the personal creation of Margaret Barker who along with her late husband purchased the property back in 1967. Together they have beautifully restored the castle as well as create a stunning garden. The views from the garden are spectacular and though the garden is subjected to wind and low rainfall it contains a unique collection of plants seldom seen elsewhere with some remnants from the original plantings 120 years ago, of note are the Cupressus macrocarpa, planted extensively for shelter and the Cedars and a Northern Rata to one side of the castle that give an air of maturity. Our IPPS Tour Group was lucky to be guided through the gardens by Margaret Barker herself. The second garden was Hereweka Garden, owned by Dr Peter Cooke. This garden covers 4hectares in a "hidden valley" which is surrounded by native bush. Within his garden he has an interesting collection of rare trees, shrubs, ponds and a more recently developed area with a "Gondwana" planting theme including palms, cordylines, tree ferns and trees of the Araucariaceae family.
Day four
Day 4 saw us heading further south, with our first visit being Pukerau Nursery, near Gore in Southland. Owner – operators, Arne and Jenny Cleland have a passion for New Zealand native trees and the natural environment. Pukerau Nursery practises an eco-sourcing policy where seed is collected for the purpose of growing & reintroducing back into their local natural environment. All were impressed by this tidy and well run operation. We then travelled across to Tapanui, West Otago to Blue Mountain Nursery. This nursery is owned by the Hughes family and is a well-respected wholesale and retail nursery. Denis Hughes is highly regarded for his plant breeding of which he spoke to the group about in some detail over lunch. Denis is now starting to take a step back from the day-to-day running of the nursery but continues with his plant breeding, which is somewhat of a passion for him. His son Chris is now taking over the running of the nursery and is the third generation to come into the business.
As we travelled back through Gore towards Invercargill we had to make a stop-off at the Infamous Hokonui Moonshine Museum. Fortified with a dram of whiskey in their system it was time for the group to experience "life down on the farm" at Chris and Gaynor Millers farm – my family's farm. They were treated to a sheep shearing display, before getting to watch a team of dogs "working" sheep. It was a great experience for all as many, including some of the Kiwis, had never seen or experienced this before. We ended the day in Chris & Gaynor's garden looking at their extensive woodland plantings and small Hosta nursery.
Day five
Day 5 was another full day of nursery and garden visits around the greater Invercargill area, punctuated only by lunch in Bluff, New Zealand's most southerly settlement. The first stop of the day was to Triflor NZ Ltd, a Dutch owned tulip bulb operation. They are the largest bulb producer in New Zealand, with bulbs being grown for the export market, most of which goes into North America to fill the gap from September to December. Our visit coincided with their export season which runs from mid-April to the end of May. The Lignite Pit Garden, which was an open pit coal mine from 1904 until 1971, was the second stop of the day. It has now been transformed into a nature friendly habitat that is gradually regenerating the ecosystem. A visit to Invercargill's Queens Park during the afternoon allowed us the chance to view one of New Zealand's more unique gardens – the Sub-Antarctic Island Gardens. IPPS member, Robin Pagan took time to show us through this unique garden in Invercargill's Queens Park. The garden has been faced south to try to simulate the cold, wet and windswept climate found on the Sub-Antarctic Islands.
The afternoon saw us visit two very different nurseries. The first, Diacks Nursery, a successful family owned, business that was established over 100 years ago and has now evolved to become a thriving business that includes two retail sites, a wholesale nursery and a landscape service. The second was to Hayes Wholesale Nurseries owned by IPPS member Barry Hayes. He is one of the largest wholesale growers and suppliers of petunias, Pac geraniums, fuchsias and Pac pelargoniums in New Zealand and sells to local garden centres as well as national chains throughout the country. Our day ended with an amazing barbeque hosted by Barry Hayes; with the group getting to sample the world famous Bluff Oyster!
Queenstown
From Invercargill the tour headed out to Milford Sound, where the group got to experience a cruise out on the sound in rather "moody" weather conditions, before heading onto Queenstown for a couple of days where the Board had the first of their Board Meetings. Queenstown was also a chance for everyone to have a day to just explore the area, one of New Zealand's premier tourist destinations. Some opted for a 4WD excursion up onto one of the notable ranges in the area; others did some hiking whilst many just kicked back in Queenstown itself. It was then on to Mount Cook where we spent our penultimate evening, with the group getting the chance to explore the Tasman Glacier Lake from one of two options: a boat trip out on the lake itself, getting up close and personal with the icebergs that break free from the glacier; or the 4WD Argo trip that took you to the top of the valley for some stunning views down onto the lake.
Christchurch
The tour ended back in Christchurch with a visit to Ambrosia Nurseries, one of New Zealand's leading wholesale container nurseries. Here we were shown around by IPPS member, and nursery owner Greg Kitson. They produce predominantly shrub and perennial material and have developed their own label: Garden Solutionz, supplying the large box stores of The Warehouse; Bunnings and Mitre 10. I think all would have been impressed by the tidy, well run operation.
Post-Conference Tour Highlights
by Ian Duncalf
At the end of the wonderful Christchurch tour a dedicated team of 13 headed North to start the post conference visit to the North Island. We flew from Christchurch to the city of Hamilton in the upper North Island and over the next week worked our way up to Auckland.

The first day of the tour proper was Monday April the 25th , an important day in NZ's history and a public holiday, ANZAC Day. This is the day New Zealanders remember their and our Australian neighbours, war veterans. A group of us arose early to attend a dawn service in downtown Hamilton and along many thousands of others joined in the commemorations. After breakfast and a regrouping we visited Growing Spectrums nursery in Kiekie. Peter and Carol Fraser along with their senior staff showed us through this outstanding producer of ornamental plants for the NZ Nursery trade. At the end of this fascinating tour we were very well fed and watered, then moved off to visit the Hamilton Botanic Gardens. These gardens now attract large numbers of visitors and the individually themed gardens are beautifully presented and contain a wealth of horticultural interest. Never enough time but we were encouraged to visit Dave and Shirley Ogilvy's new homestead before it got dark to see their exciting new venture. After nightfall an indoor feast took place and again the feeding and watering was exceptional.
After another night in Hamilton we had an early start visiting Cambrian Nurseries a small specialist Camellia and Rhododendron producing operation. This family operation produces plants of such quality that 95% of their saleable stock is already sold prior to the main selling season. After dragging Shawn out, we headed to Tauranga going right past the turnoff to Hobbitville and on to a revegetation nursery producing NZ native plants. Treeline Nurseries fascinated us with its all-female staff and its use of the cycles of the moon to plan their production. Heading down from this higher altitude nursery we reached the coast and an arranged visit at Convita, a company which produces Manuka honey and other natural health products. A very interesting tour followed in which the benefits of honey and Manuka honey, in particular, were explained in great detail. The day finished with a return to Ian and Barb Duncalf's nursery, Plant Struck, where all international members of the tour were picked up by their billeting hosts. What happened overnight remains a mystery but every one returned the next morning with full bellies and big smiles?
A very quick tour of Plant Struck nursery followed, then on to a specialist fruit producing nursery, Tharfields, owned and operated by Fiona and Andrew Boylan. Rather than look at the nursery Andrew took us through their orchard and introduced us to an array of fascinating fruiting plants. Continuing the fruiting theme we then raced off to down the road to a Kiwifruit Orchard which was in full swing picking and packing the golden fruiting variety. A few miles up the road we had another stop looking at small fruit production at a new growing operation managed by David Saunders. From here the rest of the day was our own heading up to the seaside resort of Whangamata where R & R was the order of the day. An evening meal at the Duncalf's Bach ended another busy day.
An early morning drive delivered us to the Bugger Café, a themed breakfast stop then on to visit Terry and Lindsay Hatch in South Auckland. Joy Plants is a plantsman's paradise and we were treated to a good look around this fascinating family run facility. Onwards for a quick lunch, courtesy of the Beaumont's then a look around Ardmore Nurseries. Another Family run enterprise doing both open ground and container grown plants for the nearby Auckland market. Crossing the road we moved up to Icon Trees and were treated to a visit of this modern nursery producing large container grown plants for the landscape industry. Before hitting the Auckland traffic we had a quick stop at the Auckland Regional Botanic Gardens where Jack Hobbs meet us and gave us a glimpse of this much used and enjoyed botanical spectacle. Onwards into Parnell in the centre of Auckland to our accommodation followed by an entertaining evening at the residence of Pip and Tur Borren.
The last official day of the tour took us to West Auckland to visit Nga Rakau where Greg, Mark and Jan showed us around their impressive plug producing nursery. Direct sown seedlings, including Manuka, cutting grown pines and tissue cultured Redwoods were all part of a very tasty diet. Malcolm Woolmore's, Lyndale Nurseries was next where we learnt a lot about new introductions and potting mix. The best lesson however was on property speculation and the siting of your nursery in the centre of a rapidly developing housing area. Lunch, at what was the only recognisable building on the old Hobsonville Airport, followed. Then off to Paul Turners Liner Plants. Here we saw his exporting operation and how he prepared flax and other plants for export. The last stop of the Tour was at Awa Nursery in a remote corner of Auckland where this large grower, retailer advertises to his customers "if you don't bring your trailer don't bother coming"! This apart from a fun evening at an Auckland Restaurant was the official end of the tour. However to continue the love most people participated in a day trip to Waiheke Island the next day where we shopped, swam and ate in a beautiful setting on a magical day.
A wonderful tour blessed with great people and very obliging weather. Well-deserved thanks to all those who hosted us and a big thanks to Eddie Welsh for his great help in planning and running the tour.
View tour photos here